Everyone seems to agree that 2011 was a great year for new music, and I'm certainly not going to argue the opposite. Indeed it's been a year so full of quality releases that, while I've got a top 3 sorted in my head, trying to settle on a top 10 has been impossible (then again I'm always wary of doing top 10 end-of-year lists anyway – not least because there's still a bunch of albums I need but don't yet have, plus some I do have are yet to sink in completely – too much great music, not enough time, as ever!). So, being me, I'll do something a bit different and simply look at 10 albums (not necessarily the 'best' but ones I've settled on a more or less 'final score' for!) released by...well, let's call them 'classic rock' artists, for want of a better term (and a kinder term than 'old farts'!) to celebrate a year where many veterans managed to enrich their vast catalogues even further. So, in no particular order we have:
The Zombies: Breathe Out, Breathe In – Colin Blunstone, Rod Argent and co celebrated The Zombies 50th(!) anniversary in 2011 with this all-new album, and while it is no masterpiece there are some real gems to be found here – A Moment in Time, I Do Believe and especially Any Other Way are worth the price of admission on their own. Blunstone – an astounding and criminally underrated vocalist - sounds incredible as ever and carries the album through the odd underwhelming track that pops up from time to time. (7/10)
John Waite: Rough and Tumble – For a long time it looked as though Waite might never record a full album again, and he seemed content to maintain a release schedule with live albums, re-workings and other patchwork affairs, so this surprising return to form was welcome indeed. With Matchbox 20's guitarist Kyle Cook featured as main collaborator, Waite offers up a strong selection of material (If You Ever Get Lonely and Love's Goin' Out of Style just two of the highlights) and, as always, sings like he means every word. The quality drops off a tad towards the end, with the odd Peace of Mind and pointless remake of Mr. Wonderful (originally from Waite's first solo album, 1982's Ignition), but all comes together again on atmospheric closer Hanging Tree. (8/10)
Waite's album is only the first of 7 albums in this list to be released on Frontiers Records, the small Italian label dedicated to melodic rock that has become home to many of the genre's biggest names in the last few years, as they drift away from the major labels one by one. Perhaps the one downside of this is that Frontiers sometimes release albums strategically, in an attempt to get customers making multiple purchases on a single release date. Fair enough really, but unfortunately at least two of these 'natural pairings' have seen one album clearly outshadow the other, as we shall see with the next 4 albums in my list...
John Wetton: Raised in Captivity - After fronting too many mellow/dreary albums in a row, Wetton surprised me by upping the tempo again at last with Asia's 2010 Omega album, and this new solo effort (with the word 'rock' being emphasised in the marketing) promised to capitalise on this new-found form. So I was surprised when the reviews started coming in; it seemed nobody really had anything good to say about it. I favour it more than most, but have to agree that, while on the surface it's exactly what I was looking for in a Wetton solo album, it's a strangely uninvolving affair, and few of the songs stick once the CD has finished (opener Lost For Words and The Devil and the Opera House stand out quite a distance above the rest). Wetton is in fine voice throughout and there's little that's bad here, so overall it's a decent album, just not the great one that was anticipated, especially considering the marvellous Billy Sherwood's input as co-writer and producer. Pity. (7/10)
Yes: Fly From Here – While Wetton was readying the above solo album, his primary collaborator in Asia, keyboardist Geoff Downes, was rejoining guitarist Steve Howe in Yes (who I've found I prefer with his original band than Asia anyway), and contributing an enormous amount to their first studio album since 2001 (and the first with Benoit David on vocals following Jon Anderson's most recent departure a few years ago). And what an album it is. I'm not a Yes devotee by any stretch (aside from this I only own Fragile and a best-of), but from start to finish, this is sublime. The 24-minute title suite is a stunning piece of music, yet it somehow manages not to overshadow the rest of the material, of which Life on a Film Set and Howe's gorgeous Hour of Need are personal favourites. This was just an inch away from being my album of the year, but it's definitely deserving of its final #2 spot - simply exquisite. (10/10)
Kimball/Jamison: Kimball/Jamison – Long-term friends and vocal legends Bobby Kimball (Toto) and Jimi Jamison (Survivor) teamed up for this duets album, which on paper looks like a dream come true for AOR fans everywhere. As a certified fan of both gents I was certainly looking forward to it, but while it's very listenable, the concept (one of Frontiers' 'project' albums, in which a producer and/or writing team pair up with top vocalists) is not particularly well-handled. Jamison handles the lion's share of the lead vocals, before Bobby comes in on the bridge and/or chorus of every song (and I mean every song) to make the sound 'bigger'. Surely this formula could and should have been broken up a bit more than this? As it is it can be difficult to tell the songs apart at times. While this may yet prove to be a grower I can't shake off the feeling that it would have worked far better as a Jamison solo album. (7/10)
Fergie Frederiksen: Happiness is the Road – Here on the other hand is a 'Frontiers project' album that really works. Despite only making one album with Toto (Isolation – still the best AOR album of all time in my book) Fergie remains my favourite of Toto's many lead vocalists, and his work outside of the band is also the strongest. Fergie's health problems of the last few years have been well-documented, but he does not look or sound like somebody who has been fighting (successfully!) inoperable cancer! Indeed the fact that he'd made an album at all caught many by surprise (myself included); that it ranks amongst his best work is just an added bonus. Dennis Ward's production is excellent and the songs are well chosen; sadly Fergie's poor health did prevent him from contributing much to the songwriting on this occasion, but he did co-write the title track with Jim Peterik (and it's very good, although hard to avoid comparing with Marillion's track of the same name) The below (cheesy, I'll admit...) video starts with Fergie watching the above Kimball/Jamison video (!) but his is by far the stronger effort of the two. (9/10)
Paul Simon: So Beautiful or So What – After making the brilliant Rhythm of the Saints in 1990 Simon wasted over a decade on his Broadway folly, and the mostly awful You're the One album, but beginning with 2006's Surprise has made up for this in recent years. So Beautiful... is nothing like Surprise – in many ways it's his least challenging/most traditional album in decades - but the songwriting is at least as strong and it's easy to forgive him constantly banging on about God (even though he doesn't believe in him!) angels and the afterlife given his 'time of life'. But this is a dry, witty and warm album not a maudlin one. It's also his best since Saints. (8/10)
Journey: Eclipse – As soon as I heard that this was to be a Neal Schon-led, guitar-driven album I was expecting the worst, with a lot of widdly guitar pyrotechnics in place of actual songs, but I should have had more faith for this is the best album Journey have made since reforming in the mid-90s. Although the keyboards take something of a back seat, Jonathan Cain's presence is very clearly felt in the songwriting and Arnel Pineda, on his second outing as lead vocalist is simply stunning. Possibly for the first time in the post-Perry era the band (well, Schon, certainly) has made the album they really wanted to make and while not everyone was convinced, the quality on display here is proof that it was the right route to take, so hopefully a similar approach will continue to be taken in future. Unfortunately spectacularly unspectacular sales Stateside suggest that probably won't be the case, but ya can't have everything... (9/10)
Uriah Heep: Into the Wild – This is the Heep's umpteenth album and while I can only lay claim to owning a handful of those that have come before, I'm glad I picked this one up. This isn't a band looking to reinvent the wheel – they know what they should and do sound like and they do it brilliantly here, while still managing to sound fresh. Keyboardist Phil Lanzon deserves a great deal of the credit, writing 10 of the 11 cuts (mostly with Mick Box, but I have to say that the few that aren't co-writes might be the very best on the album), while vocalist Bernie Shaw impresses as ever and brings the songs to life. Well-sequenced, rocking and catchy (try getting the chorus to T-Bird Angel or the 'red blood on the white snow' hook from the title track out of your head if you can), this is just a joy to listen to. True Heep diehards may or may not agree, but this ranks up there with the obvious old favourites like Demons and Wizards and Abominog for me. The only minor disappointment was they played a mere 4 cuts from the album at their gigs. (9/10)
Magnum: The Visitation – I've been showering this album with praise for just shy of a full year now, (here for example) so I'm sure it will shock precisely nobody when I declare it my #1 album of 2011.It's no secret that Magnum rank just behind Marillion as my favourite band of all time, but they have truly excelled themselves in recent years, and I'll say it again – the last three albums have been every bit as strong as the Storyteller/Vigilante/Wings of Heaven trilogy from their 'classic era'. Of the new albums I still have to declare Princess Alice as my favourite, but this comes very close indeed.(10/10)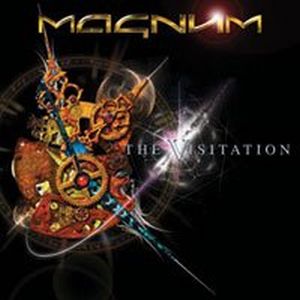 And finally...for those who were wondering my #3 album of the year was Neal Morse's Testimony 2. While he's no spring chicken I couldn't quite bring myself to include him with the above 'older' artists...but he was my other 10/10 for the year!